People buy a house in Colorado for all sorts of reasons. Maybe they're relocating their family for fresh air and outdoor adventure. Possibly they dream of raising a family here. Or perhaps it's been a dream to live here their entire life. It could also be a second house – a vacation home – that can be rented for added income when the owner is not using it. Colorado real estate – particularly mountain ski homes – can be a sound investment for those in the know. Whatever the situation, Centennial State has a lot to offer when it comes to buying a house. But there are a few not-so-great things that you should be aware of before purchasing a home. Is Colorado an excellent state to buy a house? You're about to find out.
Pros And Cons Of Owning A Home In Colorado
Colorado is one of the most progressive states in the Rockies, with:
a robust economy.
reasonable taxes.
low unemployment rates.
excellent health care.
fantastic recreational activities.
But there are a few negatives to consider. Colorado has an above-average cost of living, housing can be higher than average in some situations, and others don't prefer the snow and cold weather. Some people can also experience altitude sickness at higher elevation destinations (although that number is relatively low).
Housing can be expensive in certain situations, but that is mainly in the long-term rental market in larger metropolitan areas such as Denver, Colorado Springs, Boulder, and most ski resort mountain towns like Aspen, Vail, and Telluride. The rental market is tight, and apartments and condos rent for thousands of dollars monthly. In many cases, owning a house, even with a mortgage, is the same (or less) as what many pay in monthly rent. So why pay someone else's mortgage when you could be paying your own?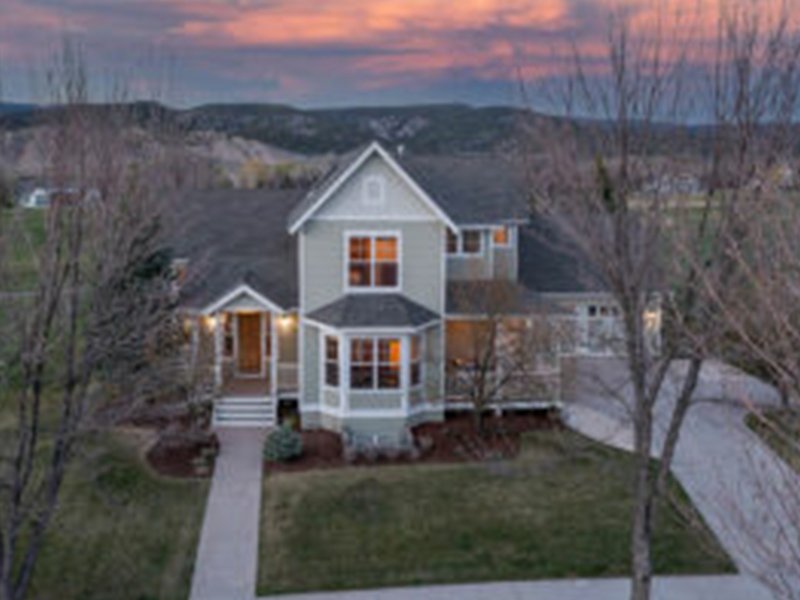 Advantages Of Buying A House In Colorado
There are several benefits to purchasing a home in Colorado. First, putting down roots in a community by buying a home is an excellent way to feel connected to a community. When you own a home, you have a sense of camaraderie with your neighbors that you don't always get when you rent an apartment. Condo dwellers often move, but homeowners tend to stay around more often, so you get to know the people around you and begin to establish a kinship that can grow stronger over time. Sure, not all neighbors get along, but for the most part, Coloradoans feel comfortable knowing their neighbor has their back.
Here are a few more advantages when you buy a house in the Centennial State:
Build equity over time. This is one of the most significant differences between owning and renting a home. Every time you make a mortgage payment, it helps establish home equity. Paying rent doesn't install a jack.
Tax incentives. There are several tax benefits to owning a home. For example, homeowners can deduct mortgage interest, property taxes, and specific fees from their yearly income tax.
Make it your own. When you rent a house, there are often limitations as to what you can and can't do to enhance the property. For example, you don't need permission from your landlord to hang photos, paint walls, or make upgrades if you own the home. As the owner, you're the landlord!
However, if you do buy a house in Colorado, there are a few bills you will need to pay:
Earnest money. In a real estate transaction, the earnest money is an amount provided by the buyers that are put in an escrow account once the property is under contract. After the closing, the deposit is transferred to the seller.
Down payment. An initial advance payment for purchasing an expensive item/service, such as a car or a house, is called a down payment. It is usually paid in cash or equivalent when the transaction is completed.
When you buy a house in Colorado, there are a few charges that you are responsible for taking care of. Some of these additional real estate costs are:
appraisal and inspection fees.
property taxes.
homeowners' insurance.
closing costs.
Your monthly mortgage payment.
home utilities and other monthly expenses.
maintenance and upkeep.
furnishing, repairs, and renovations.
It makes sense to talk to a real estate agent in an area you are interested in moving to so you can learn more about these potential costs and any other specifics to the area.
Health And Happiness In Colorado
The state offers a wide range of job opportunities. Colorado is home to booming aerospace industry and is a hub for next-level quantum technologies. The state is well-known as a frontrunner in the cannabis industry, having legalized the recreational use of marijuana in 2014. The craft beer and brewing scene is one of the nation's finest. Agriculture is also massive, with large and small dairies, traditional crops like corn and wheat, and orchards and vineyards scattered around the state.
Coloradoans are healthy. So much so that it's one of the biggest pros to buy a house and live here. Residents tend to be fit for the most part, primarily because of all the fun things to do outdoors. Colorado is a pretty sweet place to call home if you can deal with the high altitude and the weather.
There are fantastic recreational activities throughout the year. Spring, summer, and fall overflow with outdoor adventures: hiking, biking, fly-fishing, golf, tennis, disc golf, alpine coasters, whitewater rafting, and kayaking are all in full swing during the warmer months. The winter centers around all things snow: skiing, snowboarding, skinning/snowshoeing, ice fishing, snow sculpting, tubing, snowmobiling, and fat-tire bikes are all popular wintertime outings.
Ski homes are in high demand in Colorado. Houses that provide ski-in, ski-out accessibility can command a lofty price tag and may be out of the budget for many potential homeowners. However, several homes are only a short drive or shuttle ride from the ski lifts. There are also many empty lots available where you can build the home of your dreams.
With more and more employers allowing staff to clock in remotely, many at-home workers are relocating to Colorado for the lifestyle, activities, and stunning scenery. In the 21st century, living the dream and working a high-paying, full-time job that you love with skiing, fishing, and golf right outside your front door is possible. Combine that with excellent schools, picturesque views, and tons of fresh air, and it's a no-brainer.
Buy Vacant Land And Build A Dream Home
Instead of purchasing a move-in ready home, many potential homeowners first find a beautiful lot with breathtaking views where they can design and build a forever home. This gives the homeowners more freedom to pick everything they want in the home to make it their own. There are vacant lots available for new construction that are pristine and priced right.
The land is cheap compared to other types of investments. Many people will find that they only need to save a few months from earning enough money to buy a nice-sized lot for their dream home. This opens the door for many people who want to start investing but don't know how to get their foot in the door. When you find the right property, you can buy it cheaply, sell it, or develop it and use the income to make a bigger investment.
When you buy land, there is hardly any labor involved. It sits there until you redeem it or decide the right time to use it. If the property is in a residential area, keep the property clear of bushes and litter. However, you don't have to deal with bad tenants, repairs, maintenance, or damage to your property. Property taxes on parcels are much lower than on structured parcels. Land can cost hundreds of dollars a year, while houses can cost thousands. This low ownership cost is another reason people love investing in the land so much.
You can choose to develop the land yourself and add residential or commercial buildings depending on how the land is zoned. By creating something that wasn't there before, you develop a lot of value, and if you rent it out or sell it, you can make a considerable profit. Many people avoid land because it does not bring in income. However, you can find creative ways to make it work for you. You can rent it to a neighbor, so he has more space for his car or children's playground. You can lease the land to hunters if it's a large plot and it's allowed. If the parking lot is in a commercial area, you can use the parking lot during special events.